Joey D : Wrapping up at The Colonial...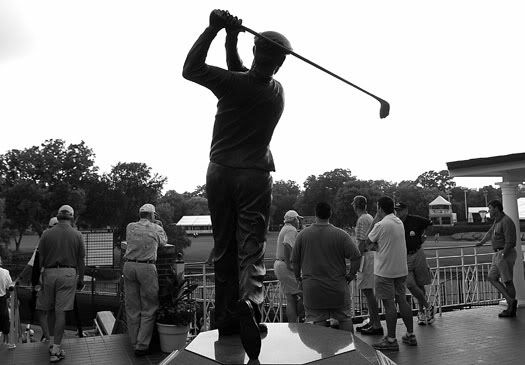 The Fort Worth Colonial tournament was a success as all of my boys made the cut this past week. The all had their moments and they all struck the ball really well, even though the didn't all score as they'd have liked.
We had a little bit of rain, it dried up and it affected the greens. That's how the game's played and a hearty congrats to Steve Stricker on his playoff victory.
All in all another great warm up before the US Open in two weeks. Guys are working on tightening up their game, but there was some definite overthinking going on out in Texas this past weekend. When you overthink, you're not always feeling everything that's going on.
All that aside, it was a solid week. All four of my guys in the field made the cut. Now it's time to look forward. Ohio and Tennessee on deck and then we turn our attention to Bethpage (Black). Right now
Ryuji Imada
looks to be my only guy officially qualified.
Pat Perez
remains out with his ankle woes.
Tom Pernice Jr.
,
Jason Gore
,
Jason Dufner
and
Charlie Wi
all have to qualify and we'll probably know their status around the time this blog posts.
With two weeks before the next major, we'll work to get all these guys ready biomechanics-wise and to get their swing dialed in. More to come on that as the next few weeks pass. I'm down in West Palm today tying up loose ends with D1 Athletics. We have our space, the equipment has been ordered and we're aiming for a late summer opening. Stay tuned.
Regarding those of you at home, another fitness tip to get your game dialed in, as well. We're going to focus on the 'Russian Twist' this week and rotation on the ball. Check the video below as I go into detail, breaking down the exercise and the impact it has on the body.
You definitely need a
65 centimeter stability ball
to make this exercise work. It's the ball that allows the rotation of the core. When positioned correctly on the ball, you'll start your rotational movement and the muscles will engage -- hamstrings, quadriceps, lower back, glutes -- all while your feet anchor you. This is a great exercise to get those muscles firing in rotation.
As you watch the clip below, pay attention to what happens when I go into the backswing. Feel how the exercise dials into your hips when you reach your complete range of motion. They will open and turn a little bit, providing stability in your lower back and range of motion in the shoulders.
More to come from Dublin, Ohio later this week.